Experiences of travellers who've met Mr. Hossein
---
An encounter in the North of Iran - Mike O'Callaghan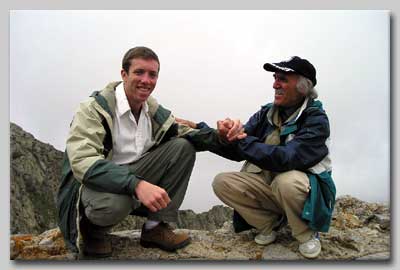 It is rare that one travelling indepedently in a country as vast, fascinating, sometimes troubling, and beautiful as Iran should come across a fellow like Hossein. Really, where else could you expect to find someone who speaks four languages fluently (English, Farsi, Kurdish, Azeri/Turkish; and if you ask him, he'll deny it: some Arabic), has 25 years of practical working knowledge of the busiest overland border (Bazargan crossing) into the country, can seduce you by singing ancient Turkish classical music, can offer advice about visa extensions, is a frequent visitor to many lesser known (but highly recommendable) attractions, and wants to make your trip through Iran as painless and insightful as possible? Mr. Hossein offers all such services with a big smile and certainly helped me experience the north and northwest of Iran from a different perspective most tourists could not have without his guidance.
Mike O'Callaghan, May 2004
---
Arranging a carnet de passage at the Iranian border - Nick M. Moghari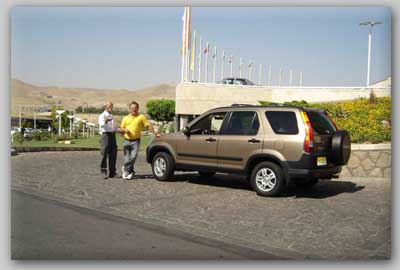 My April 2005 experience with Mr. Hossein in Iran has been outstanding. Hossein met me at Bazargan (Iran-Turkey Border) Customs Office & accomplished all the complex paper work needed to obtain the permit for my Maryland-tagged 4WD.
According to the Iranian custom's official, this permit could not be issued without a US "carnet de passage," which I did not have. Mr. Hossein obtained the permit & a few hours later we were driving to Tabriz.
Hossein is friendly & enthusiastic, he is also very knowledgeable about Persian history, art, and culture. Hossein's college degree in Persian history certainly helps him with his accurate account of historical facts. In my previous travels to Europe & Central America I have used the services of various tour guides. Hossein is a breed apart; he is experienced, speaks good English, loves his work, & guides his guests with care & enthusiasm.
I've been in e-m contact with Hossein since & I'll meet him again in late August 2005. Hossein will be taking me to the Lake Orumieh aquatic ecosystems, a must see for bird watchers & nature enthusiasts.
Nick M. Moghari, PhD, July 10, 2005
---
friends at the border - Group of Hungary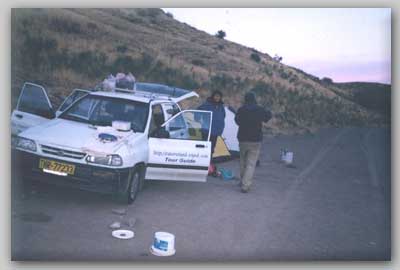 Me ,and my wife a couple from Hungary have been a regular visitors of Iran for many years. The wonderful nature of country is what we love best. We never sleep in hotels, we prefer to spend the nights under the sky there! Hossein have helped us since the time he used to do as tourist manager, with our customs ,and immigration formalities at the Bazargan border, and now as our tour guide inside Iran. We recommend his services for those who have a plan to visit Iran. He still has a great deal of friends at the border ,he even can help you in Turkish customs, since he speaks Turkish as well.
Hossein we wish all the lucks in the world for you!
---
discovering the new - Goswin Rothenthal and Christoph Miksch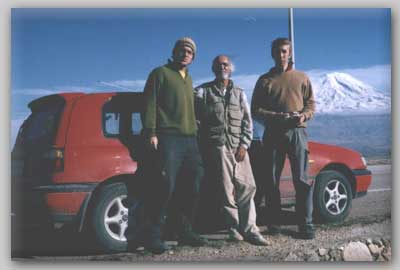 we met Hossein by chance at Dogubajazit in Turkey,before coming Iran. He was very helpful in leaving our old car in the customs deposit. Then we continued in his car. The time we spent with him was among the best we had on our trip through Asia! The soul of his personality is worth to be discovered. Interesting was the encounter with his family. Although he has been working for tourists for a long time he still has the the sense of discovering the new!
Goswin Rothenthal,and Christoph Miksch
---
our guide for three days - Tiny Koken-Huijnen and Marijke Huijnen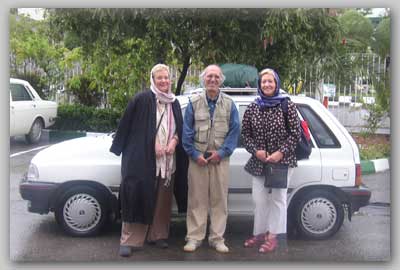 We, my sister and I, have been for a trip in Iran in april 2004. Mister Hossein Ravanyar has been our guide for three days. We have met him in Tadriz and he made with us a tour from Tabriz to Teheran.
Mister Hossein told us very much about Iran, the historical, social, political and articale live. Also he knowns very much about the nature of Iran. Thanks him we understands more of Iran, the people and the way of living.
We thanks mr Hossein and we hope many travellers in Iran will used him as a guide.
Tiny Koken-Huijnen and Marijke Huijnen
---
a wonderful world of light and color - travel group of 20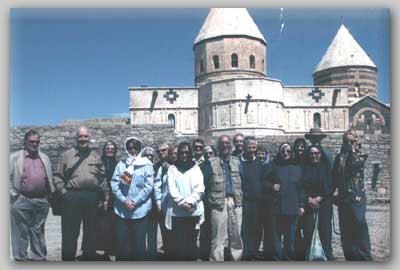 We visited Iran in a travel group of 20 ,some for the second time ,,because the people are so nice.
we came to a wonderful world of light ,and color,mosques ,and palaces ,ancient ruins ,and beautiful art and breathtaking mountains scenery ,and unchanged desert. We marvelled at the movement back and forth of nomadic peoples, and invaders, religions, and civilizations ,as our footsteps followed the footsteps of history in this fascinating land. And everywhere the smiling friendliness ,and welcome of the people, very reassuring when we were lost in the Bazaar, or needed assistance climbing out of a crypt or jumping down from a ledge.
We had very good tour guides, particularly Hossein Ravanyar, a warm and friendly man whom we all liked immensely. He is a fluent English speaker, very knowledgeable, and good humored, who gave us the historical background of the places we visited, and answered all our questions.
Thank you Hossein
---
Obtaining a Carnet de Passage at the Bazargan Border - group from Germany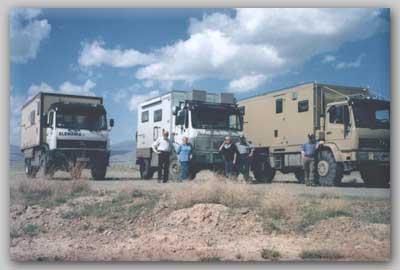 We were five peoples group from Germany who visited Iran last spring with their own vehicles. So we would like to introduce and recommend Hossein as our tour guide. Due to his experiences ,doing as tourist manager at the Bazargan border customs office for about six whole years. He is capable of handling customs, and immigration formalities as quick as possible. He is a God sent gift for those travel with their vehicles,especially those who don't have Carnet De Passage,and are obliged to obtain it at the border, since it is a must in Iran.
He does the job so smooth and quick you never feel as if you are going through an Oriental customs, and immigration department formalities! He even is able to give the same services in Turkish side, since he speaks Turkish language too.
---
Hossein meets a Czech traveller - P. Kolinsky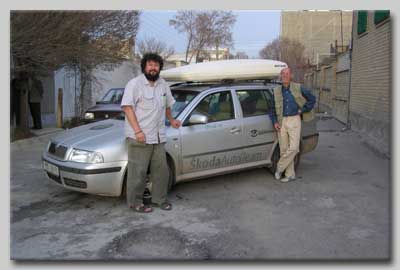 First time I met Hossein Ravanyar on Turkish-Iranian border in 2000. I was on holyday trip to Iran together with my family and few friends. It is not a big problem to cross Iranian border – if you do not have a car. But we have two cars and communication with Iranian officials, without kind help of Mr. Hossein, was because absence of Farsi knowledge (and knowledge of English on the other side) quite impossible. He was extremely helpful and all formalities were done in a half hour. So there is not surprising that we contact him by the way back again and thanks to him, we had no problems with customers.
After 4 years I returned to Iran for humanitarian mission after earthquake in Bam. Because of complication with Turkish officials we were forced to use way through Azerbaijan, but on the return journey I chose to cross border to Turkey. Of course I have contacted Mr. Hossein again. I spend great evening with him in his flat in Tabriz and next day he helped me cross the border again.
I could recommend his help to anybody who want to cross this border and do not want spend hours there.
May 2004, P. Kolinsky, Czech Republic
---
Two dutch travellers meet Hossein Ravanyar - Henk and Marianne from Holland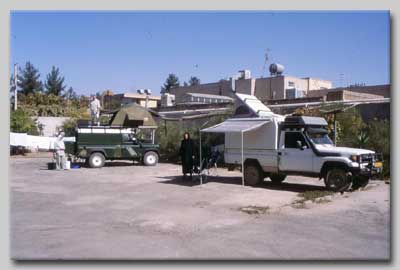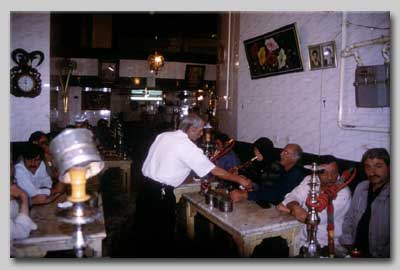 We are Henk and Marianne from Holland.
From September 22 until October 28 we have been in Iran with our Landcruiser pickup with a small camperunit in the back.
Before we left home we had contact with Hossein by e-mail to make an appointment at the border. He was there on time. He knows how to do all the paperwork that should be done so it took us less then an hour at the border. Off course we had a visa in our passport and a carnet for the car. We had still time enough to visit the Qareh Kalisa. Hossein could tell us a lot about it and showed us around. We slept in the car in front of his house, a very quiet place. After a good breakfast made by Hossein himself, we went into town to conclude a insurance for the car. It was very helpfull that Hossein could translate. As you walk in the town you have many questions about the daily life in Iran. Hossein took us to a traditional teahouse and a place where you can eat a tastfull 'ãbgusht' with sangak, bread baked on a bed of stones. In the afternoon he took us to Kandovan, little Cappadocië. The next day we said goodbye.
We think it was very helpful to have a guide the first day to get used to Iran and to answer all your questions. Hossein is very nice and speaks English well. He also knows a lot about politics in the rest of the world.
Our trip in Iran was wonderful. We 've never met such hospitable people. Many times we were invited for the tea or even a meal, but they were never obtrusive. We have been all over Iran as far as Bam. Many times we camped in the wild. We never felt insecure. In the big cities like Esfahan and Shiraz we camped in the backyard of the ITTO hotel. For a small fee you can use the bathroom and take a shower. The mountain scenery is spectacular. On the small roads there is always some one to ask the way. The only disadvantage was the traffic. Chaotic and sometimes dangerous.
Iran is really worth a visit. The people deserve it and are really delighted that you visit their country to see it with your own eyes.
---
Ben Ray from England meets Hossein Ravanyar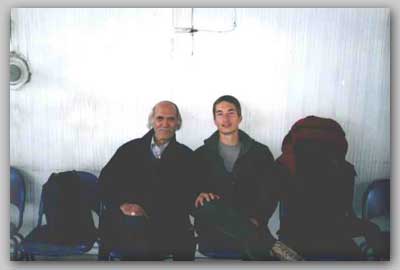 I spent almost a week with Mr Hossein in the first part of 2003 in the North West (Azarbayjan) region of Iran. Together we saw many sights in and around the urban centres of Tabriz, Orumiyeh and Ardabil, as well as surrounding rural areas. He was a very professional and informative guide who made travel and tourism in this part of Iran very enjoyable and memorable. I would strongly recommend his services to any interested parties -individuals or groups -wanting a genuine tour of and insight into the region. I believe he is flexible enough to tailor make a visit that fully suits your interests or requirements. Enjoy Iran!
Ben Ray (24), Norwich, England
---
6 times round the world - Andrzej Sochacki,Polish American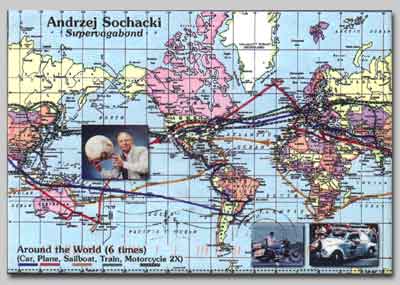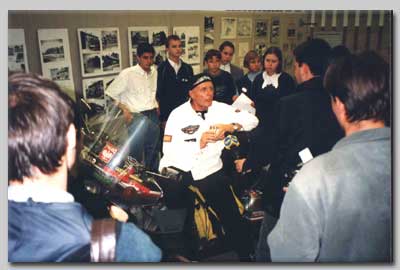 Meeting Hossein at the border
I am Andrzej Sochacki,Polish American, I have travelled around the world six times by:

1-Car from New York 1977-79
2-Airplane from Los Angeles 1978
3-Sailboat from Las Palmas 1992-94
4-Train from Warsaw 1994-95
5-6-Bike from Phonix Tokyo 1998-2000
Total:133 countries ,350000 km. in 10 years!
You may imagine how many people I have visited in those 133 countries. Hossein is the one I will never forget. For those who want enter Iran with their bikes or vehicles Carnet DE Passage is a must , and I didn't have any, and didn't know the language to explain the problem to customs officers!
I found Hossein after waiting for whole seven hours, indeed he did find me. He had been visiting his family in Tabriz 280 Km far from the Bazargan border. He used to live away from his family. It may appear strange but he was the only soul who could speak English in customs! He introduced himself as tourist manager, and, asked what he could do for me!
By taking me to several customs authorities, I could understand by his gestures, he was trying to convince them I am a very famous tourist, and they must find a way to let me into the country, despite the fact I didn't have the bloody documents! I was really frustrated and worrying what will happen if they didn't give me the permission to enter Iran!
Hopefully all Hossein's efforts after a couple of hours solved the problem, and I was in Iran with my beloved Bike! I want to tell the world without his kind help, it was impossible to cross the country, and it was very important for me. It was late in night, he told me I can share his small room for I couldn't find any place to spend the night. He not only didn't charge anything but called his son in Tabriz to help me there. His son Rouzbeh was my guide for a couple of days in Tabriz, and I was invited to the family for a couple of lunch, and dinners! I am pretty sure he will succeed in his new job, because he is experienced, and loves his job!
Andrzej Sochacki, Polish American
April 2003
---
Driving from Kosovo to Afganistan - Mr. Sebastian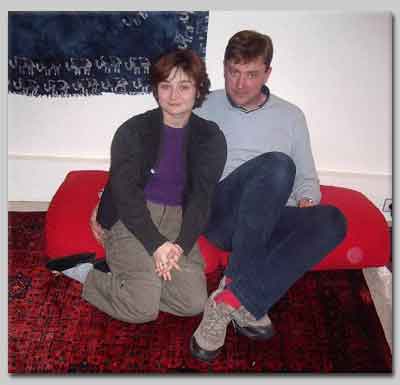 Hello everybody!
I do work for a French Humanitarian Organization. After the crisis of Kosovo, the NGo decided to reaffect 2 vehicles from Kosovo to Afghanistan mission. Those cars were two four wheels drive. The best, and cheaper way to transport those cars was by driving them ,using the road through Turkey, and Iran.
That is what I have done, I was in charge of this mission. Our time was counted. It was in January of 2001 during winter. Believe me it was a huge luck to meet Mr.Hossein at the border between Turkey ,and Iran.He helped us a lot at the customs, insurance,and all administrative papers.
He solved it on a very efficient way.His English is pure,and fluent. It was a real help,and more over the meeting of this guy, and his personality is really interesting. We spent a few little time with him,it was a rich time being with him!
I do recommand Mr.Hossein.You can be confident with him. Dont hesitate. At the final we succeeded to enter Afghan border without any trouble, and in time.
The success of the mission was partly due to Hossein believe me! I have the project to return to Iran, but as a tourist, to visit those mythic place as Isfahan or Caspian sea. For sure I will manage to meet Hossein again!
Mr. Sebatian
April 2003
---
Two Thai-American travellers drive to Thailand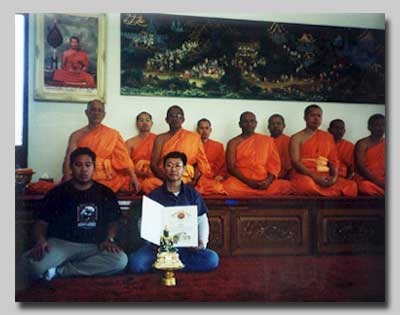 ---
A Brazilian traveller who got assistance from Hossein - Raphael Karan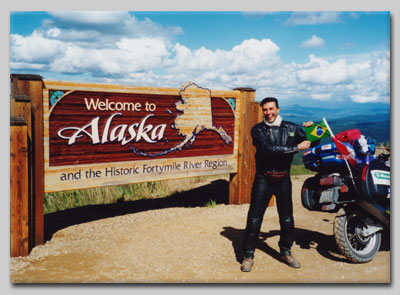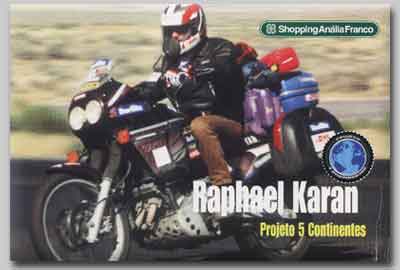 World Journey I am Raphael Karan from Brazil, and started my adventurous journey around the world with my motor bike to see how the people live, and what are the stories of different cultures, traditions, religions.
I have a pleasant memory from Iran with a man who was tourist manager, and with fluent English. I didn't know I should have obtained a carnet de passage for the bike, and according to Iranian customs rules the bloody document was a must to cross the border!!
I really was disappointed, and didn't know what to do. There was no ear to listen, nobody to understand the problem!
I couldn't return back, and select different route, it was really impossible for me to decide!
On that vital moment, somebody appeared from nowhere, and introduced himself tourist manager with a fluent English, and asked what was the problem!! I couldn't believe my ears, but he was there, very kindly assured me he will do his best to convince customs authorities, though it was a difficult job! He closed his office, and took me direct to those who had higher position, because customs officer had told him it is impossible, and don't waste your time the rules are unchangeable! He took me to the other department which was a couple of minutes from the gate. I noticed it is the office of director general. They discussed the matter for a while, although I couldn't understand the language, but was able to realize from Hossein's gestures how hard was it to make the chief understand my situation! But at last the miracle appeared, by seeing Hossein smile, and behavior I was pretty sure I am able to cross the border!
Yes Hossein did bend the rules for me ! I didn't know how to thank him, even he didn't charge anything for the great job!! I gave my cap as a memory, I hope he still have it!
He is retired now, and doing as tourist guide in Tabriz. I saw his site with different kind of his help, to other people who had different problems! I recommend him for those who might visit Iran and wish him success in his new activities!
Raphael Karan, Brazil October 2002
---
A Swiss couple got a Carnet de Passage at the Iranian border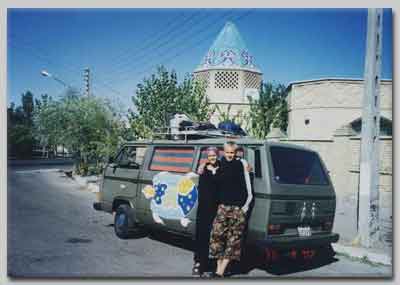 ---
A Danish family travels to Iran and meets Hossein - Per, Pernille, Frederik and William Thorbøll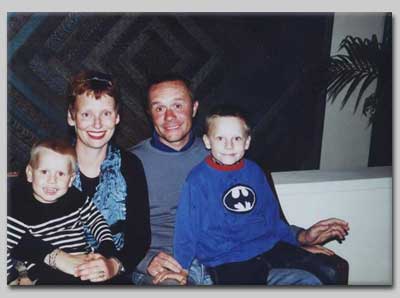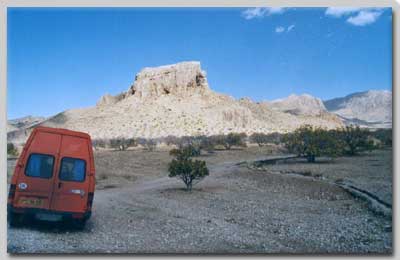 Denmark -Iran
In October 1999 we, a Danish family of four, set out on our adventurous journey of driving from Denmark to India in a orange Ford Transit. The van was quickly named the Orange by the boys who were 2 and 6 when we started out. Making a journey like this took a lot of work and one of the hardest things was to get an Iranian visa. When we finally got it they had a put a deadline for entering the country a month away. Suddenly we were in a major hurry. We drove through Europe as fast as we could and was preoccupied with the thoughts of how Iran was going to be. I, as a woman, knew that there were very strict dresscodes which I hoped that I could fulfill without buying a chador and we were also afraid of not making it to the border in time.
We made it one day before our entry date expired and early on a warm October day we drove to the Iranian border. Going through the Turkish part was fast and uneventful, but when we came to the Iranian checkpoint they said that there was problems with our visas. The Iranian embassy had written no to us being accompanied by anyone, which meant that the children were not in the visas. Disaster and a very long day rose before us. Suddenly a man appeared before us. He spoke a very good English and wanted to help us.We had met Mr. Hossein. Mr. Hossein worked all day trying to convince the people at the border to let us in and the reply was all the time, No, go back to Turkey and apply for a visa there. He tried everything, talked to everyone and finally when everything seemed in vain he came up with the last idea. We should call our consulate in Teheran and get them to call the Foreign Ministry and they should then fax to the border and in this way let us enter the country. It seemed impossible and the woman at the embassy did not sound hopeful about it, butt miracle happened and 12 hours of waiting at the border ended when a fax arrived from Teheran. We were so grateful to Mr. Hossein who then invited us to his house in Tabriz. We spent 4 wonderful days with his beautiful family, saw the sights, went on a picnic, ate great Iranian food and just eased into Iran, which turned out to be a truly great country to travel in. The culture, people and the warmth and hospitality we and our children encountered were mindblowing. So we will forever be grateful that we met Mr. Hossein and his family. Our children speak of them often and we are all quite sure that we would like to visit Iran again and then Tabriz is a must.So we can give our warmest recommendation to Mr. Hossein and Iran. We think of them with gratefulness and joy.
Per, Pernille, Frederik and William Thorbøll. Copenhagen
Denmark, June 2002.
---
A German traveller meets Hossein at the border - Karl Martin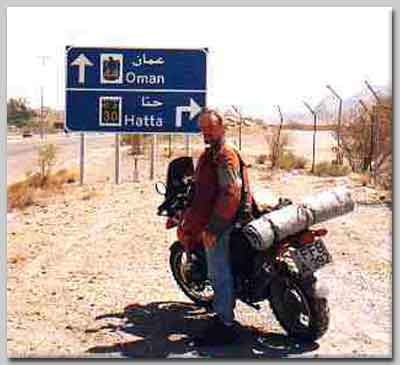 I wish you good luck with your new tourist agency. I have been the first time in Iran with a motorbike and friends in Sept. 2001 (with your assistance at border to Iran) and again from 02nd. of July 2002 till 13th of July. It was a good time. People in Iran have been very kind. I wish you GOOD LUCK Hossein!
Karl Martin, Germany, July 2002
---
French travellers visiting Iran - M et Mme Guilhot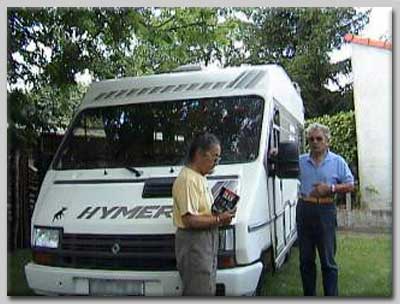 Trip in Iran
We are a couple from France. It was our dream to visit Iran ! I am sure those who are interested in old cultures they can't avoid a trip to this famous ancient Empire. It is a great pity you see a lot of bad news about Iran in European medias, sometimes,wich may disappoint the people who are eager to travel to this country. We were there and saw a very nice country with a unique hospitable people ! Mr Hossein, Tourist manager,is one of them.He was really very helpful in our arrival and when we left Iran. While you have this kind man at the border I promise all your customs formalities and paper work will be done as quick as possible ! We never forget his kind service in our first step to Iran ! We still are in touch with him and look forward to see him in our probable future visit to Iran once again. We are sure he will be successful in his new activities because he loves his country and wants more tourists to travel to Iran.
M et Mme Guilhot
France
June 2001
---
An American traveller meets Mr. Hossein - Robert Leutheuser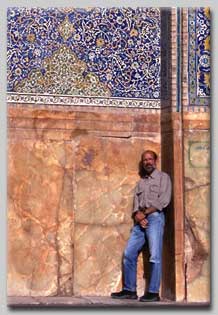 A trip to Iran
In the spring of 2002, I had the great pleasure of traveling through Iran. As an American, and given the political rhetoric and realities of the time, I was excited to be able wander behind the screens of common misperception that veil of this marvelous country. I was not disappointed at what I found and experienced. Besides the rich history, stunning architecture, and humbling landscapes, it was the Iranian people that made this travel so wonderful. Welcoming, open, and sincere. I feel that in my short 3 weeks traveling in Iran, I made numerous friends, some, like Hossein Ravanyar of Tabriz, who I am certain I will see again.
I spent 3 days with Hossein in Tabriz before crossing overland to Turkey. I enjoyed his hospitality on several occassions, and wandered the city with him. Hossein was the gentleman host, with experience, knowledge, and yes opinions, he generously shared. And when it came time to cross the border, Hossein was there, bantering with his former colleagues, making sure I did not experience any problems.
If you have a chance to visit Iran, do so.
You will not be disappointed.
Robert Leutheuser
RobLeutheuser(at)worldnet.att.net
Albuquerque, New Mexico USA
June 2002
---
Two Croatian travellers met Mr. Hossein on their way to China - Boris Veličan & Vjeran Hrpka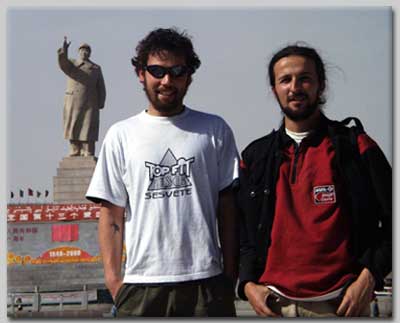 Croatia-China by Car
Sometimes oasis doesn't have to be a be a beautiful grassy land full of water in the midle of a desert – oasis is sometimes a friendly local man in a foreign country. In year 2001. on our way from Croatia over Hungary, Romania, Bulgary, Turkey, Iran, Pakistan to China, we met thousands of different people, but, there is allways someone you remember the best.
Having problems on the Bazargan border with carnet-de-passage for our 16 years old Mitsubishi Pajero, we thought that everyone and everything is against us. Fortunately, not everyone. Mr. Hossein Ravanyar, at that time border employee, has seen two overlanders without an expirience for border-crossing in eastern countries and helped them. Our problems were solved imidiately!!!
After few months, on our way back from China, we had an old friend waiting for us on Iran – Turkey border. If anybody will travel trough Iran, we wish him to meet Mr. Hossein Ravanyar for he is an oasis for travelers!
Boris Veličan & Vjeran Hrpka
Croatia
July 2002
P.S. If there is any additional question, feel free to contact me at bvelican(at)yahoo.com
---
Two Italian travellers who met Mr. Hossein at the border -Francesco Puttilli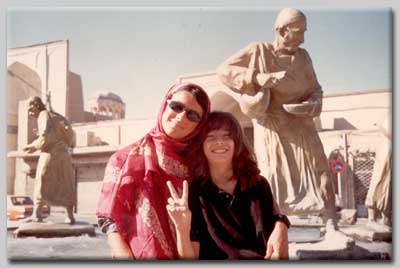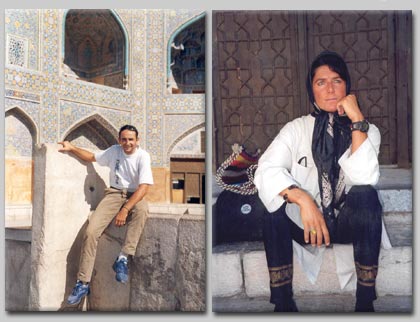 VENICE - TEHRAN Alone!
In the summer of 2001 I had the great idea of traveling to Iran by car, a Ssang Yong Musso.
Starting at Venice (Italy) I came across Slovenia, Croatia, Hungaria, Romania, Bulgaria, Turkey and Iran. The full journey alone! My wife and my child arrived later in Tehran by plane on the 11th of august.
Three weeks and 8000 Km. I, my car and the road. The road, my car and I. On august the 4th I'm one week ahead of time and at the Iran border.
40° degrees celcius , veiled women in black, the tiredness, no western people for a fiendly support, visa, carnet de passage, documents, bagage check,...Oh my God!! You can imagine my sensations at that moment.
Like a mirage. this Mr. Hossein! My anchorman, the comet star you must follow after the gate. Who is he? The special man at the border. He radiates all the positive aspects of Persian people. Please don't listen to what the western media and politicans say and write about Middle East!
Hossein will always be in my mind for his friendly, hospitality, disponibility, curiosity, honesty and sincerity. With his help I only needed one hour to pass the border into Iran. FANTASTIC. (It took me seven hours to pass the Bulgarian - Turkish border!!)
Awaiting the arrival of my wife and child in Tehran I've spend 5 unforgettable days with mr. Hossein . No problem with changing money, no problem eating and sleeping.
In every situation Mr. Hossein has the solution. His house is always open. No problem to send a fax, an e-mail, a telephone call, to buy a film for your camera, to wash my car. He, his sons or his local fiends are always available for every thing in every moment. Unforgattable the Tabriz park
tour by night.
Your wife doesn't know how dress?
Mr Hossein is your look adviser!!
Thank you mr Hossein
P.S. The carpets are fantastic! Do you remember?

Francesco Puttilli
Bojon - Venice - Italy
July 2002
E-mail: effepipromotion(at)tin.it
---
Two Dutch travellers who ran into Mr. Hossein at the Bazargan border -Inge Rozema & Remco Aalders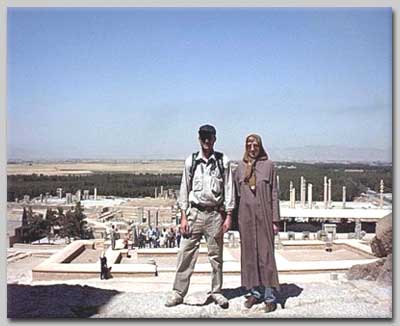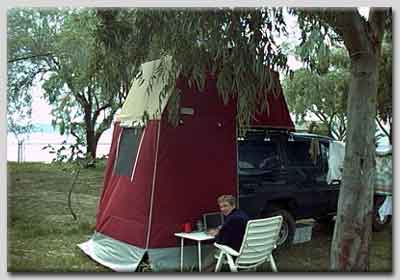 A journey through Iran by Car
An exerpt from our dairy of our overland journey from Holland to Iran and back (April-September 2001).
Saturday May 19 2001 (coming from Turkey to Iran)
We got up early today. The sun was shining and a cold wind was blowing from Mt. Ararat. We had breakfast on the parking lot, on which we camped tonight, along side a hotel. After that we packed everything for some weeks of "non -camping", because we don't expect much campings along the way in Iran. We checked all our papers for the border-crossing that lied ahead….. and off we went! And of course: I had to put on my scarf and long coat.
The first barrier was crossed very quickly, but it appeared to be a police-post only. Long rows of trucks were waiting there, but we could drive through right away. At the next barrier a turkish man took Remco in and out of small offices to get the necessary stamps. A little later I had to leave the car also to get an exit-stamp in my passport. Immediately after that I was directed into a large hall, where a lot of other people already sat and waited. They appeared to be Iranian men and women. Remco had to go back to the car and drive it across the border without me. After a while the men and women in the hall moved to a large iron door at the other end. I didn't know what to do, so I joined them there. Then the door opened and at the other side stood a man in uniform who wanted to see our passports. All the people could go through, but he kept my passport and made clear to me that I had to wait next to him.
Then a friendly elderly Iranian man came to me, who could speak English rather well, with a sophisticated accent. He introduced himself as Mr. Hossein and told me that he was of the tourist-information and there to help me with the border-checks. He took my passport en me to a border-control office. He also told me that Remco was still in Turkey, but that I now had entered Iran! After a while I could see our blue car driving through a distant gate and Mr. Hossein left me to fetch Remco and help him with the border-formalities. After that he changed money for us, gave us some tourist information and a copy of some common Farsi words with the translation in English and he also told us that there wasa camping site in Tabriz. So we can camp after all ! Because of Mr. Hossein the contents of our car didn't get checked and within two hours we had crossed both borders. This was a very unexpected friendly welcome into Iran!………"
Thursday June 14 2001 (coming from Iran to Turkey)
We got up early this morning, because we wanted to be near the border before lunch-time and from Tabriz to the border is a couple of hours drive. There wasn't much traffic to delay us, so at about eleven o'clock we arrived in Bazargan. First we went to the bank to change rials for lira's and earlier we had filled up our tank with diesel-fuel, because we will never get it as cheap as in Iran again. At the border Remco first went to look for some assistance to get us across. And luckily the friendly gentleman who had helped us a month ago, was there again! Mr. Hossein guided us through the Iranian side of the customs -formalities. After that I was again directed to the large hall for transit-passengers and he went along with Remco to help him getting the car to the other side. This time they did check the contents of the car and the diesel fuel in the jerrycans seemed to be OK.
Regretfully later on my experience on the Turkish side was annoying in comparison with the swift Iranian border-service…………………………….."
So far for my diary. Thank you very much for your help in those days (already more than a year ago!) and we hope you'll do fine with your own tourist-enterprise!
Inge Rozema & Remco Aalders
The Netherlands
June 2002
---
Two Swiss travellers who met Mr. Hossein at the border in Bazargan - Tara and Zoltan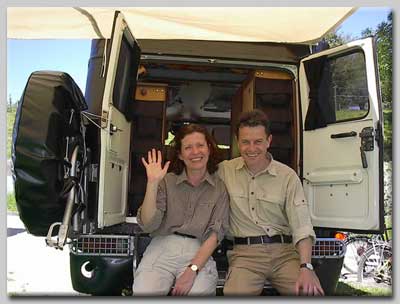 From Switserland to Australia by car
We met Mr. Hossein in August 2001 when we arrived at the Iranian border. We are two overlanders, travelling with our 4WD car from Switzerland to Australia.
It was very useful for us to find someone at the border helping us with the paperwork. Especially the kindness of Mr. Hossein is still in our memorys. He gave us the first impression of Iran, a warm, friendly and hospitality: welcome in these beautiful country. When you go to Iran, you have already a friend there: Mr. Hossein!

Tara and Zoltan
Switzerland
May 2002
---
Two Dutch travellers supported by Mr. Hossein at the Bazargan border - Astrid & Remco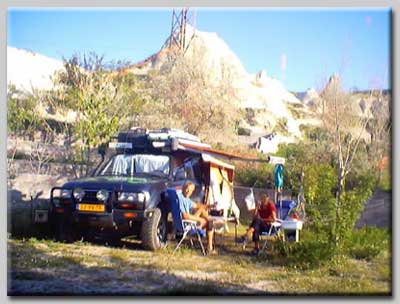 From Holland to Australia by car
We met mister Hossein by coincidence at the border in Barzargan. He had just brought some tourist back to Turkey and was planning to go back home to Tabriz. But just before he left, he saw us coming by car from Turkey and helped us with the border formalities. And what a great help he was! He knew almost everybody at the border and we past the border within almost one and a half hour including the carnet de passage for the car. We had heard lots of drama stories about difficult crossing, but ours was very easy thanks to mister Hossein. We are a couple from Holland and are traveling by car from Holland to Australia, so Iran was on our travel plan. In the end we spend almost 5 weeks in Iran because the country is beautiful, but also because the people are so very nice and friendly. We think mister Hossein is a good example of this.
When we arrived in Tabriz, we visited Mr. Hussein in his hometown and together with his young Armenian friend Doro we visited two Armenian churches in Tabriz, went out for dinner and spend some time with his family. Through this way we would like to thank mister Hossein for his hospitality and the great time we have had. We wish him all the best for the future with his company, but we are sure he is going to make it. If you like to see if we are making it (or have made it) to Australia, please visit our web site mentioned below.
Astrid & Remco
The Netherlands
May 2002
---
Mr. Hossein Ravanyar is one of the most helpful tourist accommodators I have met in my years of world travel. On two occasions, I was arriving in Iran with an American vehicle with a California license plate. Mr. Ravanyar assisted me with all of the difficult bureaucracy and all the impossible custom matters. He helped me to insure the vehicle in Iran and whatever else I needed at the border.
I recommend Mr. Ravanyar as a sincere, diligent, honest advocate for your next trip.

Saeed Sadrian
North County San Diego, CA
USA
May 2002
---
Rolf Wang-Norderud - Norway
This is to confirm that I personally have met and experienced the excellent tourist service from Mr. Hossein in Tabriz.
I met him as a official touristofficer. Mr. Hosseins know-how and positive attitude made my travel and staying at different places in Iran a pleasure. I was, in year 2001, assisted during my two weeks staying in Iran, from Zahedan in south to the Turkish border at Bazargan.

It is therefore easy for me to advice other tourists to meet and use the know-how of the mentioned Mr. Hossein Ravanjar, hoping they will have the same experience as I had.

Rolf Wang-Norderud
Norway
June 2002
---
Alastair Caldwell - England
Thank you for your help when crossing the border with my Royal Enfield motorbike. Thanks to you we had a great trip from Delhi to London. If I decide to bring over one of my cars for an adventure I will definitely get in touch.

Alastair Caldwell
June 2002
---
Norbert Fink - Germany (letter just in German)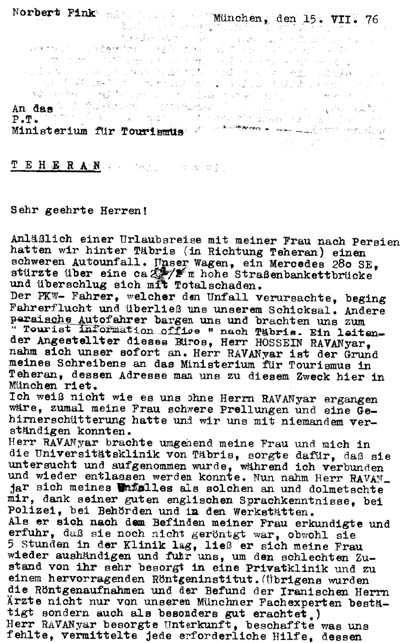 ---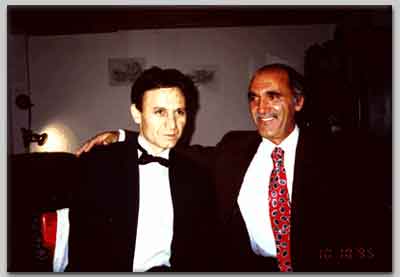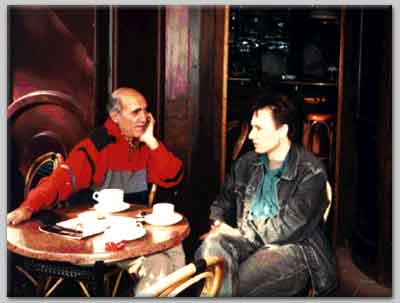 A member of the Mr. Hossein's family wrote:
"My name is Jamshid, Mr. Hussein's nephew. I live in Germany for about 18 years and know my uncle since my childhood. I remember him with tourists when I was still living in Iran. About Mr. Hossein I can say that he is very professional and helps tourists heartwarmingly well.
In Germany I get at least 3 or 4 phone calls a year from tourists who were in Iran recently. They tell me their interesting stories about Iran and how friendly ,
helpful and nice Mr. Hossein is. To my opinion it's really worth to know Mr. Hossein."
Jamshid
Germany
July 2002
---
The "black church" near Maku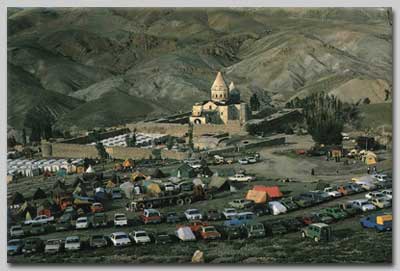 Although the church is very white and known by most people visiting Iran, the scene pictured below is at the end of June each year. At this time of year Armenian pilgrims visit the church to honor the Christian desiple "Sr. Thaddaeus" who is buried here. Three days of the year the scene around the church is as pictured below. Most remarkable is that Muslims are not allowed at the church during these 3 days. Also women won't wear a scarf during the festivities.
Mr. Hossein can arrange transportation to reach the somewhat remotely located church.
---
Murat camping in Dogubajazit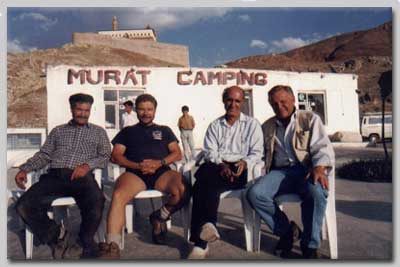 A place which has almost become a travellers hub for people visiting Iran. Closely located near Iran and situated in a volcanic landscape under the scenic Sultan palace. The place also can be used to climb the nearby mountain "Ararat", 5137 meters high. You can contact Mr. Hossein from this camping. The brothers Murat can help you contacting Mr. Hossein. (Hossein is the 2nd from the right)
---
A tourist group guided by Mr. Hossein. (Hossein is the 4th from the right)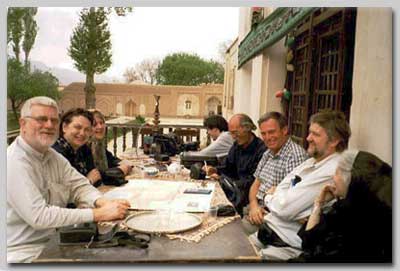 ---
A bus tour group helped by Mr. Hossein. (Hossein is the 1 st from the right)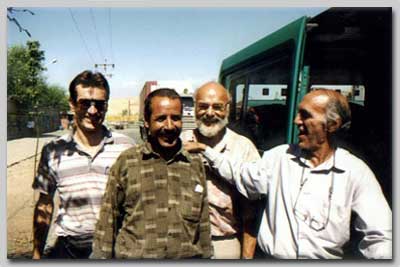 ---
A Danish couple driving through Iran with their own transportation helped by Mr. Hossein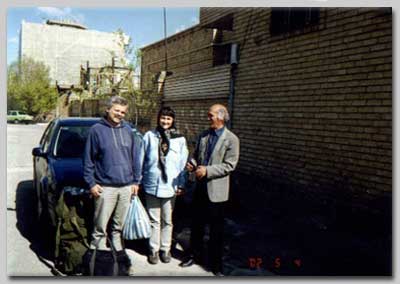 ---